A Little About Me....
Personally, I love puppies, jeeps and homemade chocolate chip cookies... and, before I get too old, I'd like to visit Europe and see all the coastlines and castles!
Professionally, I'm an American artist and emerging brand, featuring out-bound licensing worldwide and focused on contemporary fantasy composite art designs for puzzles, greeting cards, journals, stationery, etc., as well as abstract alcohol ink designs for home decor.
I'm seeking licensees and partnerships, as well as brand / agent representation.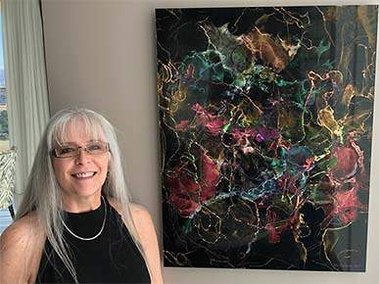 Bio
Dru is a self-taught American artist who specializes in creating contemporary fantasy composite art for consumer products such as puzzles, greeting cards, journals, stationery, wall art, etc.
Dru was born In Indianapolis, IN and grew up in a very creative family. Her love for art started at an early age and continued into high school where she took art classes to improve her skills. After graduating high school she joined the Air Force where she was able to participate in military art competitions, winning many awards.
After leaving the military she studied engineering in college (still entering art and photography competitions) and landed an international award for color photography leading to her work being published in "Photographers Forum" in 1991.
Dru consistently participates in art courses and workshops to further her knowledge and technique as an artist. Her skill in Photoshop enables her to blend art and photography assets into fantasy composites.
She currently lives and works in a small rural town on the western slope of the Colorado Rockies. When not in her studio, Dru enjoys spending time in Glenwood Springs and Aspen.
Representation

Dru is currently represented by Easton Art Gallery in Delray Beach, FL and also exhibits her work locally through art guilds and city/county government art programs.